We are pleased to inform you that since BEP Foundation exists i.e. May 2016, we managed to help Bahamas National Trust (BNT), Friends of The Environment and Bahamas Marine Mammal Research Organisation. 
Bahamas National Trust (BNT) based in Nassau and all over the Bahamas, by being a Lifetime Member.
1st picture with (left to right)  Lynn Gape – BNT Deputy Executive Director , Charles de La Baume (BEP), Ariane de La Baume (BEP) and Eric Carey – BNT Executive Director.
2nd picture : Bep members presenting the lifetime Corporate Certificate.
 Friends of the Environment based in Marsh Harbour-Abaco, by being a Lifetime Member. 
Ariane and Charles went to the Kayak Challenge last November 5th at Little Harbour. This event was a partnership between FRIENDS and the Abaco Cancer Society to raise funds.
Friends of the Environment by collaborating and sponsoring the Event « Science Fair 2016 – Challenges and Solutions for Waste Management in the Bahamas, at Marsh Harbour with the participation of 11 schools. Each school had to defend their own project with its solution. The winner was Hope Town Primary School J.
Hereafter, Friends of the Environment general comment : « Every year we seem to be more and more impressed with the student's projects and this year was no exception. This year's theme was Challenges and Solutions for Waste Management in The Bahamas. The students put so much effort into their projects and came up with real solutions to this very important issue we face as an island nation. Check out our Facebook page for more exciting photos »
December 2016 & January 2017
Bahamas Marine Mammal Research Organisation by sponsoring about 500 posters on Mammals' protection.
As you know, marine life affects all Bahamians; it is the centre of our tourism industry, and tens of thousands of Bahamians directly depend on it as a means of making a living. Yet, most Bahamians are not aware that there are twenty-three different marine mammal species that live or travel through the waters of The Bahamas. Without this information, they have no basis to make appropriate life choices which may impact these species and their habitats, such as littering, sustainable fishing, coastal development and proper boating etiquette. Despite protection by law, there is a lack of public awareness and appreciation for marine mammals in The Bahamas and a growing need for capacity building in the marine sciences.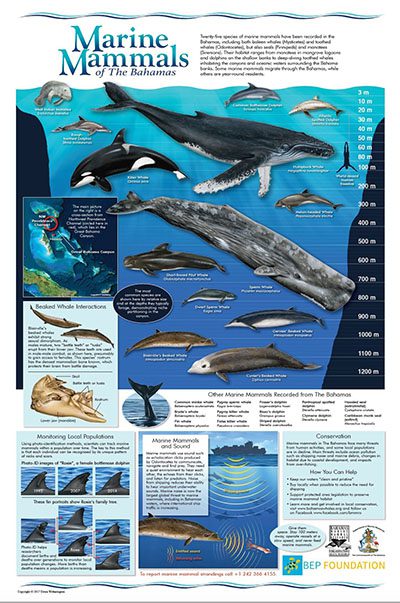 To fill this need, Bahamas Marine Mammal Research Organisation has been working with an artist who has previously designed eco-educational posters for the Bahamas such as the Queen Conch and Bonefish, to create a poster on the marine mammals of the Bahamas – they aim to distribute this poster to every school in the Bahamas, all Bahamas National Trust Offices, all Marine Resources offices, the University of the Bahamas, and other non-profit organisations. The distribution of this poster will immediately increase the awareness of marine mammals in our country.
To reinforce moorings in Sea Parks with BNT, Friends of the Environment and volunteers' collaboration.

To become a lifetime Member for Bahamas Caves Research Foundation represented by the well known and famous Brian Kakuk, a former U.S. Navy Diver with over 30 years of professional diving experience (weblink

http://tekdiveusa.com/speaker/brian-kakuk/

). Brian is also known for his work on

Hectometer

(2011),

Nova

(1974) and

Bahama Blue

(2015).


We will explore with Brian Blue Holes and Caves in Abaco in May 2017.

To keep helping various associations on a date to date Event basis.
TOGETHER, WE CAN MAKE IT !
(left to right : Brian Kakuk-Caves Research, Kristin Williams-Friends, Charlotte Dunn-Mammals, Charles de La Baume-BEP, Diane Claridge-Mammals, Olivia-Friends, Charlotte Boyce-Friends, Ariane de La Baume-BEP)